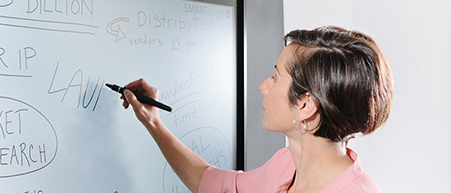 Imagine an Ultra HD display with a built-in whiteboard that enables multi-way inking between any combination of devices, anywhere in the world - simultaneously. Sound magical?
We thought so too.
SMART kapp iQ lets everyone, whether in the meeting room or classroom, see what is being written in real time. But it doesn't stop there. Every participant can contribute to the display from their device. When they do, their writing instantly appears on the display and on everyone else's device.
It's true multi-way collaboration, where work can be saved at any time to a storage service, like Evernote™. Imagine the possibilities.
We have installed many of these now and it truely has changed the meeting room specification. Rather than use a standard display, we are using the SMART Kapp iQ display and it is awesome.
4K resolution is here and if you are using video conferencing then this is how you should view it. Chrystal clear images and amazing colours makes this the display of choice. Even in medical uses, the colour detail is good enough for most applications.
This really is a "no-brainer", the Price versus Specification makes this one of the easiest choices you will make.